Chamber Business Expo
In association with Hewett Recruitment
Chamber Business Expo
7 October 2021

|

9.30am-2.30pm
Three Counties Showground, Malvern
The popular Chamber Business Expo returns in its physical format on 7 October 2021 at the Three Counties Showground, Malvern.
Our businesses and our lives may have changed during the pandemic, but with any challenge, comes opportunities, fresh ideas, and welcomed change. Herefordshire & Worcestershire businesses are adaptable, resilient and above all, innovative. We can't wait to see what you and your fellow businesses have created through this period and will be by your side to celebrate this success with you in 2021 at the Chamber Business Expo!
If you have any questions please contact the Events Team by emailing events@hwchamber.co.uk or call 01905 673600.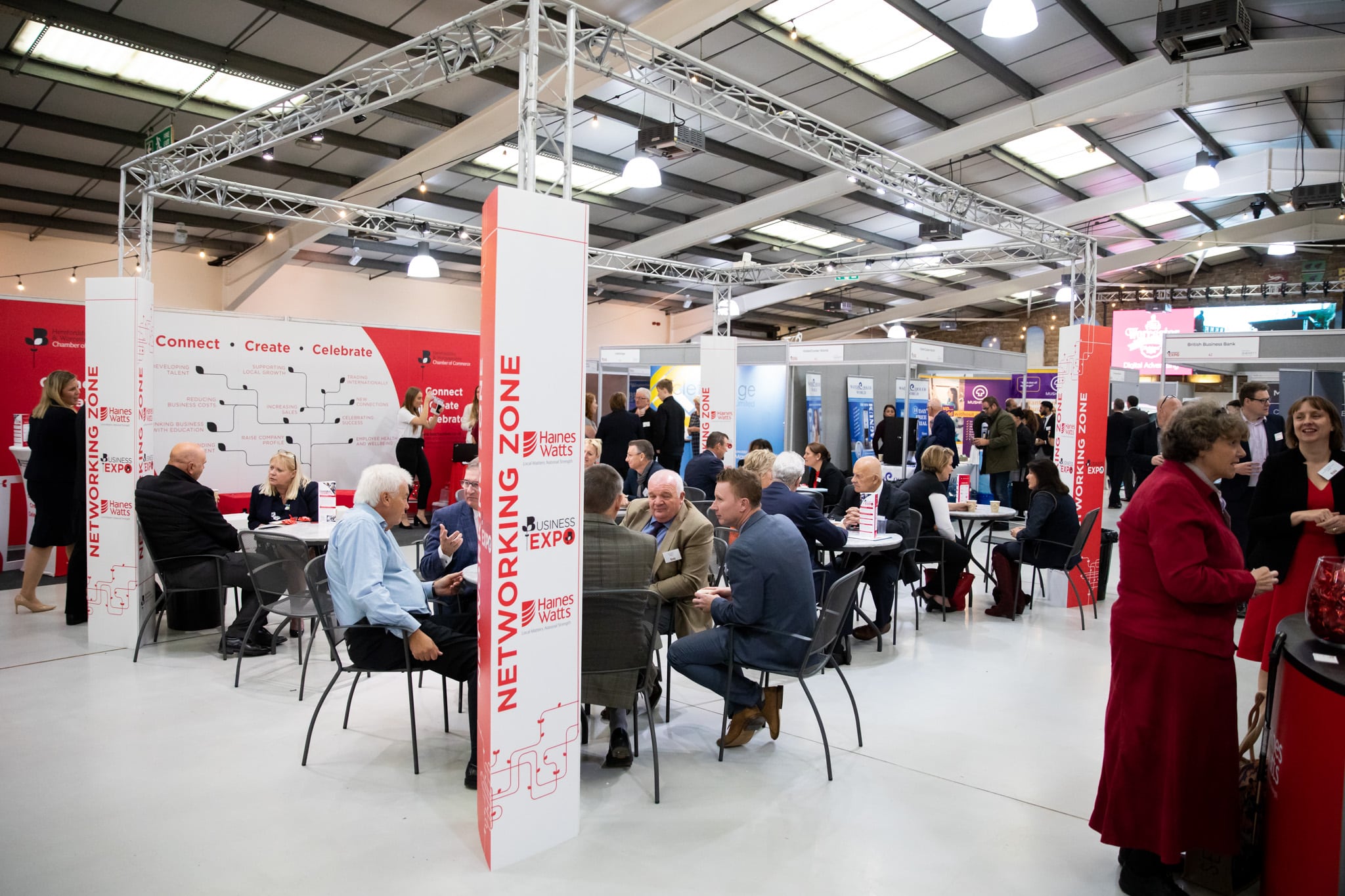 Want to Exhibit?
Download a booking form below
Want to Visit?
Pre-register your attendance below
The Business Expo is a great chance to:
Network with business professionals
Increase your product and service profile
Make new business contacts
Visiting the Business Expo
With over 120+ exhibitors from lots of business sectors, a dedicated Networking Zone, with free tea and coffee kindly supplied by Watercooler World – don't miss the chance to raise your profile with others in the Herefordshire & Worcestershire business community. This is the go-to event for anyone starting or growing a business as well as for business professionals looking to improve skills and develop key relationships through networking.
Exhibiting at the Business Expo
The Chamber Business Expo returns on Thursday 7 October 2021 for the 12th year, with typically over 600+ delegates, and 120+ exhibitors, this is the largest business expo in the two counties.
95% of Exhibitors met new contacts on the day & 84% of them expect to do business with those contacts in the near future, with an expected sales range between £500-£20,000
Read what our exhibitors are saying
The Chamber Business Expo has given us the opportunity to use creativity and insight to market our organisation locally, enabling us to build new and established connections throughout the three counties.
It was great to meet other local producers, current customers and potential clients. Receiving honest feedback about our range is essential and the Expo provides an ideal platform for that.
A great event with good footfall throughout the day. Lots of new leads and contacts and as always, great to meet up with those we already know.  Our 3rd time of exhibiting at the Expo and we will be booking again for the next one!
Once again you have succeeded in hosting an excellent event. The quality of Exhibitors, Attendees, Speakers and support staff is second to none. Being placed at the centre of the hall I managed to look up a couple of times, in between a very busy time for us!!, and see a very busy, bustling environment throughout the day.
As for WaterCooler World we manged to get at least 7 strong leads which should lead to business soon. We always see more business over the coming months with typical comments that "we met at the Chamber Business Expo" and would like to discuss your services.
Congratulations on a super event!
We had a great day catching up with existing customers and meeting some potential new ones. Everyone who came to see us seemed genuinely interested in having a conversation about working together and we look forward to building some new relationships as a result
The exhibition gives us the opportunity to showcase our business to decision makers within the Hereford and Worcestershire business circle and the team at the Herefordshire & Worcestershire Chamber of Commerce make the process simple and enjoyable.
Fisher German have been exhibitors at the Expo for many years, we really enjoyed the experience and felt that our aim to increase brand awareness was successful.
We thought the March 2019 Expo was the best event in a long time and other stall holders I spoke to throughout the day agreed. At times we had queues of businesses lining up to register to help the DKMS charity, and it was a bonus that throughout the day BBC H&W were encouraging listeners to attend the Expo!
Admission:
Tickets are issued and visitors admitted on the understanding that no canvassing is allowed by non-exhibitors. Visitors suspected of canvassing in contravention of this rule will be asked to leave. This policy is in place to support the exhibitors that have supported this event by purchasing a stand and making the event possible.
We offer free and discounted events to our Members
Become a Member today
starting from as little at £12.50 / month
Or Contact our Membership Team
enquiries@hwchamber.co.uk 01905 673611