Being a finalist in the World Chambers Competition, awarded one of the Sunday Times Best Not-for-Profit Organisations to work for 2018, 2019 and 2020, and being accredited at Investors in People Gold level, these are exciting times to join the Chamber of Commerce.
We offer an excellent benefits package which includes: 29 days holiday plus Bank Holidays, private healthcare and access to retail discounts. We offer a range of work life balance policies and are an equal opportunities employer.
Please find our current vacancies below.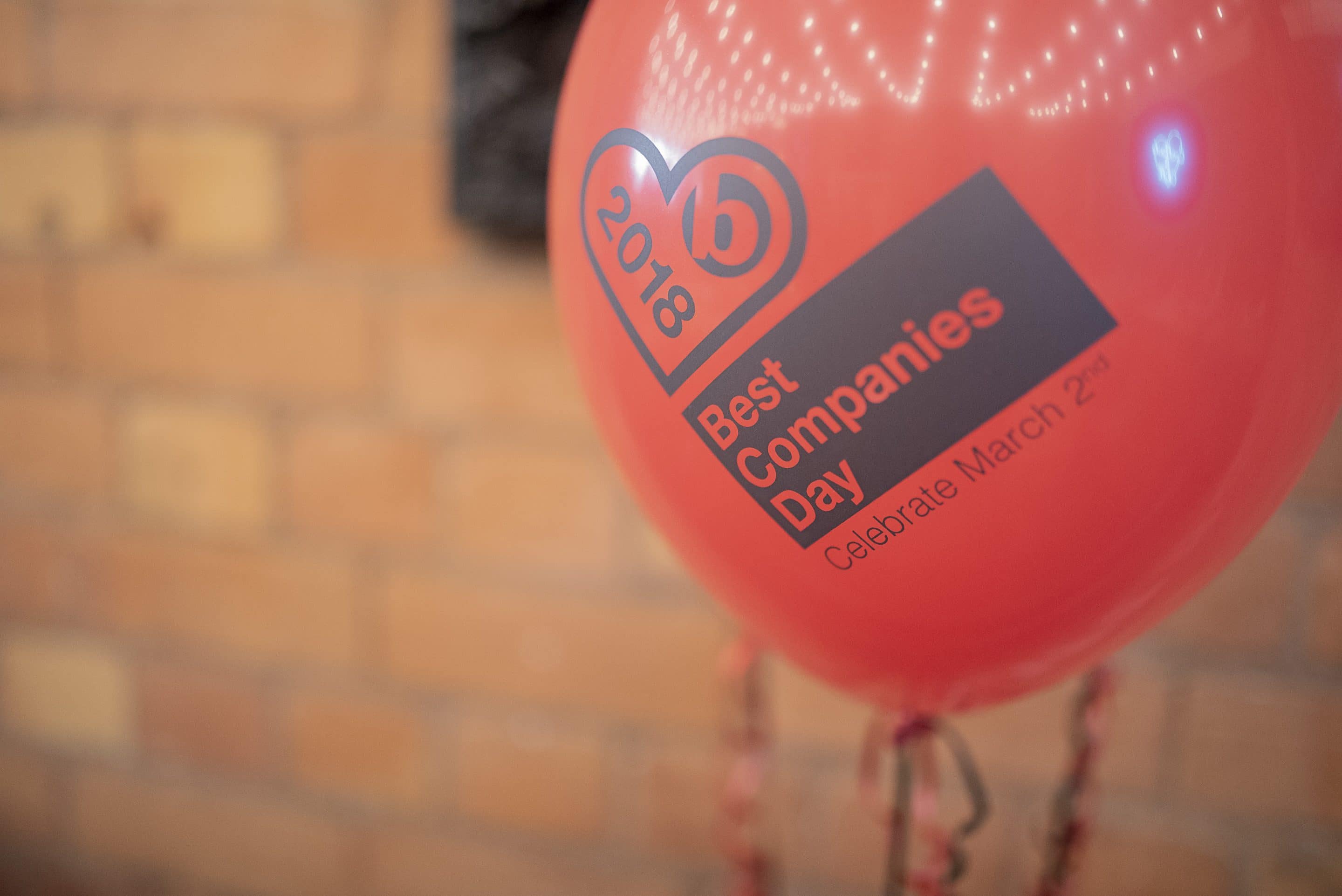 We currently have no live vacancies, however, please use the 'Apply Now' button to submit a speculative application
What is it like to work for the Chamber?
Take a look at the case studies below from current staff at the Chamber and their progression throughout the company.
Abigail Robbins - HR Executive
I joined the Chamber in July 2011, after completing my A Levels that summer. I had offers from universities, however, decided to undertake a business administration apprenticeship to increase my work experience and get my foot on the career ladder – the opportunities I have had since then have been fantastic and I am so glad I took this career path.
I was recruited into the Corporate Services team and, not being sure which business function I would like to specialise in, found the variety of work I was undertaking (finance, premises, HR and IT) a great opportunity to see where I best fit and what I most enjoyed.
The organisation was very encouraging and gave me plenty of scope to try different things, regularly asking if there was an area I was leaning towards. After completing my level 2 apprenticeship, I undertook level 3 and began to focus more upon a purely finance and HR role, eventually resulting in me moving to a wholly HR position, which I love.
The opportunities I have had to develop over the past 7 years have been exponential, as well as completing levels 2 and 3 of the business administration apprenticeship and having access to numerous courses that the Chamber provides, I have also studied professional qualifications. After raising an interest in HR and wanting to focus more upon that area, the Chamber agreed to fund my CIPD level 3 qualification; I have now completed levels 5 and 7, achieving my MA in Human Resource Management in 2018. This was such an important accomplishment for me as I am now qualified both professionally and academically in an industry I had not thought of studying prior to working at the Chamber.
I am so proud to work for an organisation that develops its employees and actively seeks to make a positive difference to their future. Not only is undertaking training actively encouraged but opportunities to work across teams are also supported – I have been part of a staff consultation group, member of the premises refurbishment working group, attended numerous Chamber events, am currently a fire marshal, an internal auditor and member of the Tyro Events team, in which myself and two colleagues have been given sole responsibility for managing all of the events and actions surrounding them.
In September 2017, I had the incredible pleasure of attending the World Chambers Conference in Sydney due to inputting into an application for the competition, for which the Chamber was shortlisted. I am also part of the Chamber's Rising Stars programme, which includes an individual development plan that myself, my manager and the organisation commit to in order to further my skills and experiences in the areas I would like to develop in. These have included presentation opportunities, project work and additional professional development – I am currently undertaking a counselling course to further enhance my skills and the support I am able to provide at the organisation.
I have enjoyed the past few years at the Chamber immensely – the team supports each other and is such a fun and hardworking group of people to work alongside, often arranging activities or events that employees are invited to. The Chamber invests a great deal into its staff – I have grown so much as an individual over the past few years and am excited about what the future may bring!
Olivia Williams - Events & Training Manager
My 7 year journey at the Chamber started when I was 18 years old, enthusiastic and eager to get started on the career ladder, I was excited to join the Herefordshire and Worcestershire Chamber of Commerce on a temporary contract. My experience was quickly expanded through working in various departments including, Events, Training, Finance, Membership and Department for International Trade. I started to understand the role a local Chamber of Commerce played, how we help businesses, and our connection to the British Chamber of Commerce.
During my time at the Chamber I have been given an abundance of opportunities to develop and grow, professionally and personally. My first permanent position was Events and Training Assistant where I gained an understanding of the variety of events and training courses we offered to our Members. I then took on the role of Training Coordinator, and then Events Coordinator and used my passion for learning  and networking to develop and bring new ideas to each department. In 2016 I was successful in my application for the role of Events and Training Manager, I was over the moon to have been given the opportunity.
2 years on and I am extremely proud of my team and my department, not only for continuously expanding and developing our events and training courses, but for the teams innovative ideas and desire to help Chamber Members. As was my first management role, I have received plenty of training and support from the organisation which I have found invaluable for my development. I have been selected to join a Rising Stars programme which gives me even further opportunities to learn, expand my knowledge and better my department and the business.
I believe strongly in the Chambers vision to support local businesses, and feel grateful for the benefits we as employees receive, including generous annual leave (I enjoy a holiday!), Westfield Health, and numerous fun activities including the Christmas Party! I am proud to work at the Herefordshire and Worcestershire Chamber of Commerce!
Randesh Kalar - Business Engagement Manager
I began my career at Herefordshire & Worcestershire Chamber of Commerce as an Area Relationship Manager where it was clear from the beginning the opportunities the Chamber could offer me. During my time I have been very fortunate to work in various roles which have given me the opportunity to widen my experience and skills in the business industry.
Over the 7 years I have been here,  the Chamber has been fantastic with the rewards and flexibility offered. During this time I also took maternity leave for my second child and the support I received was exceptional, including being kept up to date with any changes within the business. On my return to work I was able to change to part time hours.  The flexibility the company offered has definitely helped my career progression. 
Thanks to the support and opportunities from the Chamber I am now a Business Engagement Manger.   This has been a real career highlight to me to see how far I have progressed from my first position. I really would not be where I am now without the support and passion of the Chamber.
The business encourages each department to work with each other which is a great opportunity to find out more about other departments and the work they do, which in turn can open up new opportunities for progression. 
The Chamber is a great place to work.   Receiving support for my personal development and skills is very important; there are many opportunities to further your career here at the Chamber.
I hope to have many more years at the Chamber as I have been given understanding, caring, extremely approachable and fair managers. I have great work colleagues and an excellent management team. The job satisfaction I have is my adrenalin and I couldn't be happier with being part of this great company.
Lauren Salisbury - Training Co-ordinator
On completing my University degree in Business Management and Events Management I was unsure of what career path to take, after working in basic admin roles for two years I decided I wanted to start to put what I've learnt throughout my degree into practice and applied for a job at the Chamber. 
I started my employment at Herefordshire & Worcestershire Chamber of Commerce in April 2016 with the role of Events and Training Sales Administrator, supporting the Events and Training department to deliver over 100 events and 120 training courses per year. Throughout this role I gained experience within the events sector and dealing with people. The Chamber gave me the opportunity to develop my networking skills and allowed me to build my confidence when working with local businesses.
The organisation gave me opportunities to grow both personally and professionally and after 8 months at the Chamber, a vacancy for a Training Co-ordinator became available. In April 2017 I was successful in my application for the role and the Chamber has continued to support my growth and development even further.
Throughout my role of Training Co-ordinator I have been able to expand the training into Herefordshire and created a successful tender for new courses, which has seen the expansion of 5 new courses into our ever-growing portfolio. I have learnt how to manage budgets and created strong relationships with clients and trainers. Taking sole ownership of the marketing for the Training Department I quickly found I had a passion for being creative. The Chamber agreed to fund my Level 4 Certificate in Professional Marketing qualification which I started in September 2018. Studying towards a qualification in an area I have developed an interest in whilst at the Chamber has given me so many more opportunities to develop my career further.
The Chamber continuously seeks opportunities to develop its employees and give them a successful career. An area that I find really beneficial is the access to the training courses that the Chamber offers. All employees are able to attend these courses with costs covered by the Chamber and this is a really valuable addition to my development, I have so far completed 15 courses throughout my employment with each of these providing key learning tools to help with my job role.
I am also part of the Chamber's Rising Stars Programme, myself, my manager and the organisation created a personal development plan that will further my skills and experiences. Alongside this I am an Internal Auditor and a proofreader for the company and run Tyro Events with two other members of staff. I also have an active part in the Herefordshire and Worcestershire Prince's Trust Development Committee and represent the Chamber at fundraising events.
I have really enjoyed my time at the Chamber so far and I am grateful to work in an environment that commits so much time and support to personal development.
Yasmin Bent - Events Co-ordinator
After a year at Sixth Form College I knew University wasn't the right career path for me therefore, I applied for an apprenticeship role at the Herefordshire & Worcestershire Chamber of Commerce in July 2013. I was successful in my application and started the role as Business Engagement & Events Assistant.
I split my time between events, training & membership, my varied role included booking delegates training courses and events, administration support, organised training courses at our premises and preparing for all events. The Chamber secured a tender to run the Worcestershire Christmas Fayre for 2 years; this was a really exciting time as it was a completely new project for the whole team to get involved with, part of my role was to organise all 300 coaches into the city centre.
After completing my level 2 apprenticeship I was fortunate to be offered a permanent position working alongside the Events & Training Team. I began to take on bigger projects and more responsibility; It was at this point I started to have a real passion for planning and organising events. Within the same year I had been promoted to Events Co-ordinator, in this role I help deliver a wide range of commercial business events including large business exhibitions, conferences, awards ceremonies, networking events and sector specific forums as well as visiting new venues & marketing all of our events.
I am so thankful for the opportunities that I've received since working at the Chamber; I have been able to attend over 20 training courses to develop my skills such as Customer Care, Advanced Excel, Effective Use of Social Media & Telephone Techniques. I joined the GDPR working group last year to ensure the Chamber is fully compliant with the new regulations.
I am continuously progressing in my role, last year we launched our new events programme in whereby Chamber members receive free & experiential networking events such as Chocolate Tasting, Meeting & Feeding the Rhinos, BBQ's and Horse Racing days. As Events Co-ordinator I've have the pleasure of organising the majority of our 150 networking events as well as our showcase Annual Business Awards and largest Business Expo's in the two counties.
Last year my two colleagues and I were offered the chance to run a networking group for young professionals to help bridge the skills gap. I am currently on the Rising Star Programme whereby I sat down with our HR Director to create a personal development plan over the next year that will further my skills and experiences.
I'm extremely grateful for the experiences I've had at the Chamber so far, I have really developed my skills set and with the help of my mentoring sessions now have an understanding of what I need to do to progress in my career.
Become a Member
starting from £20 / month*
* for 1-5 employees
Or Contact our Membership Team
goodbusiness@hwchamber.co.uk 01905 673611