Chancellor Rishi Sunak has today unveiled his Winter Economy Plan. The thrust of the chancellor's message is that the country needs to find a sustainable way to live with the virus.
That means targeting government support – rather than the blanket approach at the start of the pandemic. It echoes Boris Johnson's statement earlier this week when he said restrictions might be in place for six months. The government seems to stressing now the virus is here to stay – until there's a viable vaccine.
Quick Summary:
Chancellor Rishi Sunak announces a new Job Support Scheme, starting in November
It replaces the 'furlough scheme' and means the government will pay part of workers' wages who have lost hours
The cut in VAT to 5% for the hospitality and tourism sector will be extended until 31 March
Firms that took government loans during the crisis will have longer to pay them back
Firms that deferred their VAT bill will no longer have to pay a lump sum in March
Job Support Scheme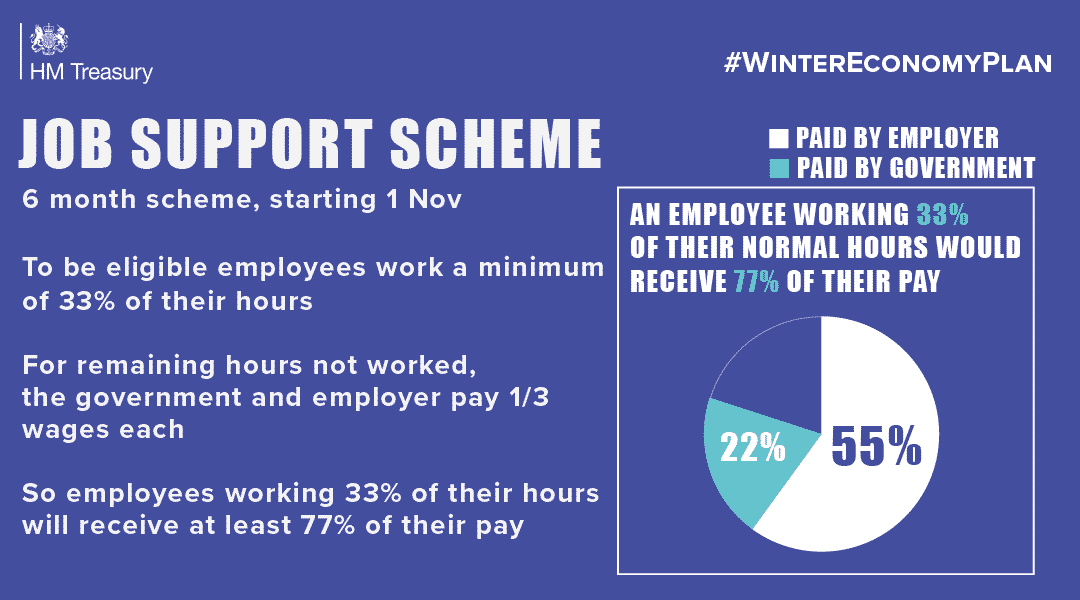 From 1 November, for the next six months, the Job Support Scheme will protect viable jobs in businesses who are facing lower demand over the winter months due to Covid-19.
How will the Job Support Scheme work? An example:
If an employee works reduced hours the employer pays for that. And in addition, the employer and government pay one-third of the lost pay each (up to the cap). So for someone on £2,000 a month working half their hours, they'd get £1,000 normal pay plus £333 extra from their employer and £333 from the government. The employer can also claim the job retention bonus – as long as they qualify for that.
Government Loan Extensions
The application deadline for all coronavirus loan schemes – including the future fund – has been extended to 30 November ensuring even more businesses can benefit from government-backed support. Lenders have been enabled to offer Coronavirus Business Interruption Loan Scheme borrowers more time to make their repayments where needed.
Pay as you grow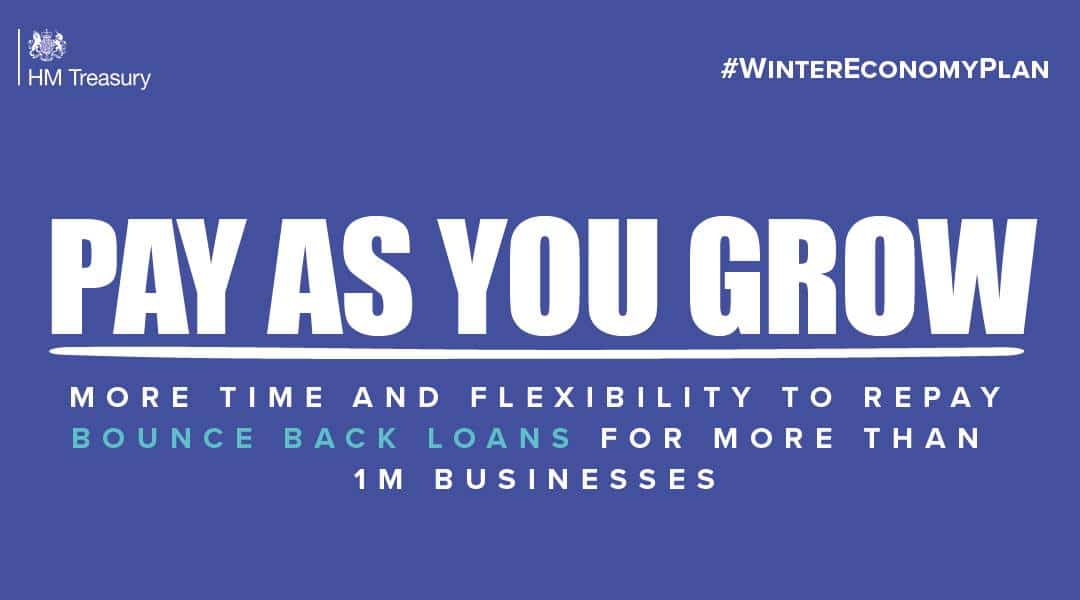 More than one million businesses which have borrowed under the Bounce Back Loan Scheme will be offered the choice of more time and greater flexibility for their repayments.
VAT cut for Tourism & Hospitality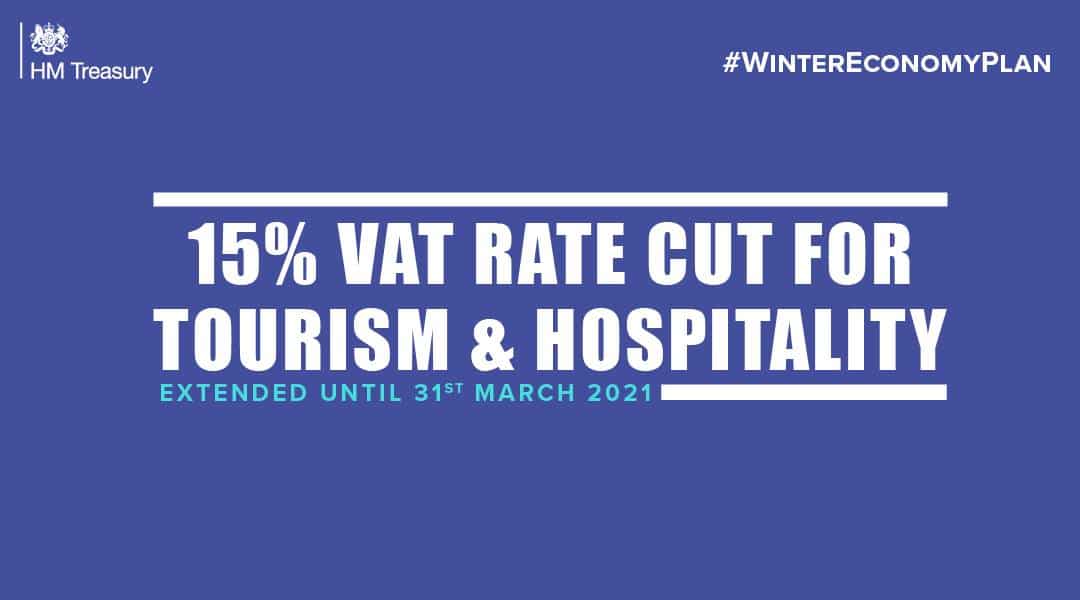 To continue supporting over 150,000 businesses and protect 2.4 million jobs, the Government has extended the 15% VAT cut for the tourism and hospitality sectors to the end of March next year.
VAT Deferral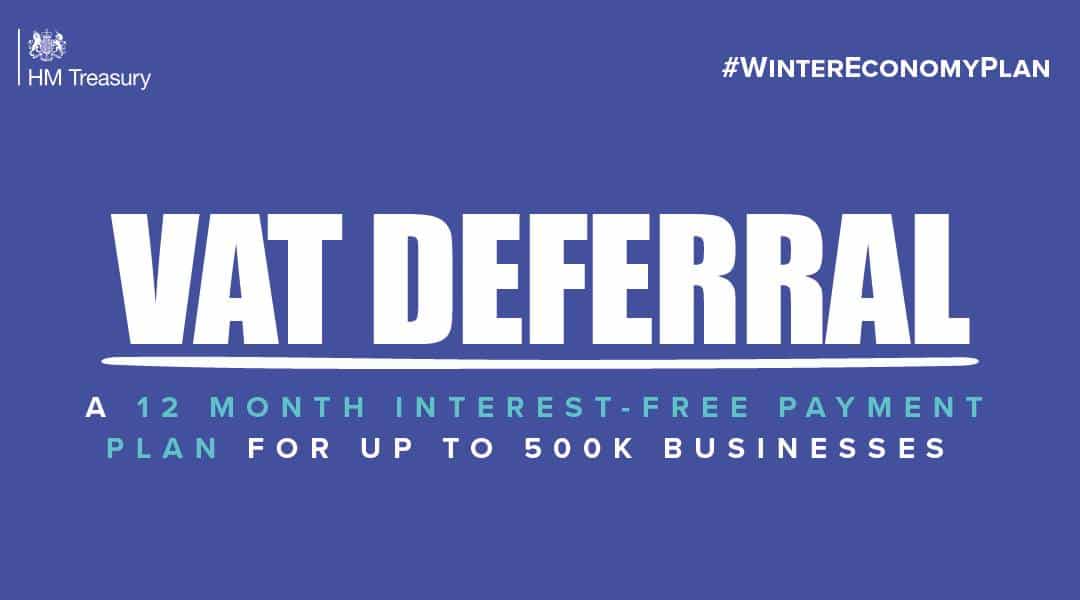 Businesses who deferred their VAT will no longer have to pay a lump sum at the end of March next year. They will have the option of splitting it into smaller, interest free payments over the course of 11 months – benefitting up to half a million businesses.
Help for Self-Assessed Tax Payers
Any of the millions of self-assessed income taxpayers who need extra help, can also now extend their outstanding tax bill over 12 months from January.
Self-Employment Income Support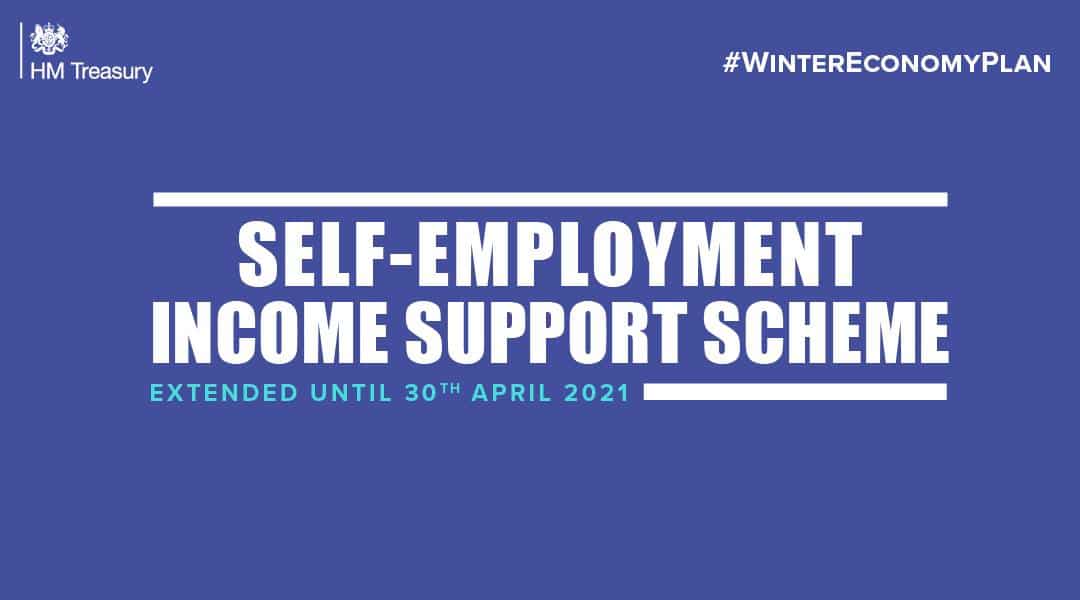 The Self-Employment Income Support Scheme extension will support viable traders who are facing reduced demand over the winter months, covering 20 per cent of average monthly trading profits via a government grant.
Responding to The Chancellor of the Exchequer Rishi Sunak MP's announcement of a Winter Economic Plan, including a new raft of measures to support businesses and the economy as the pandemic continues, BCC Director General Adam Marshall said:
"The measures announced by the Chancellor will give business and the economy an important shot in the arm. Chambers of Commerce have consistently called for a new generation of support to help protect livelihoods and ease the cash pressures faced by firms as they head into a challenging and uncertain winter.

"The Chancellor has responded to our concerns with substantial steps that will help companies preserve jobs and navigate through the coming months. The new Jobs Support Scheme will help many companies hold on to valued, skilled employees. Businesses will be eager to see the detail and consider whether and how they will be able to use the scheme.

"The Chancellor has listened to our consistent calls for an extension of business lending schemes, more flexible repayment terms for loans, and tax forbearance measures. With almost 40% of our firms saying they have 3 months cash in reserve or less, this will lessen the immediate pressure and provide reassurance for many affected firms at a challenging time.

"The Chancellor must remain open to taking additional action to support parts of the economy facing unprecedented challenges over the months ahead. Chambers of Commerce across the UK will continue to work with government to ensure the benefits of these schemes are delivered to firms on the ground."
As more detail emerges, we will update our articles so please check back regularly for additions.
For the latest coronavirus business support, visit our Hub here.
For weekly updates, support and resources just for businesses, sign up to our Coronavirus Business Support Newsletter here.
Check how many cases there are in your area here.