The British Chambers of Commerce's Trade Confidence Outlook for Q1, released yesterday (Monday 12 April), has revealed the stark issues facing UK exporters in the first months of this year. The survey of more than 2,900 UK exporters revealed that the percentage of firms reporting decreased export sales had increased to 41%, up from 38% in the previous quarter. The percentage of businesses reporting increased export sales fell to 20%, down from 22% in Q4 2020. 40% reported no change in their export sales.
The historical percentage balance data for this indicator shows that the proportion of firms reporting increased export sales remains at a historically low level and has, in fact, worsened compared to the previous quarter. The balance of manufacturers reporting increased overseas sales was down to -9% from -8%, while the balance of services firms reporting increases dropped to -26% from -22%. See below graph: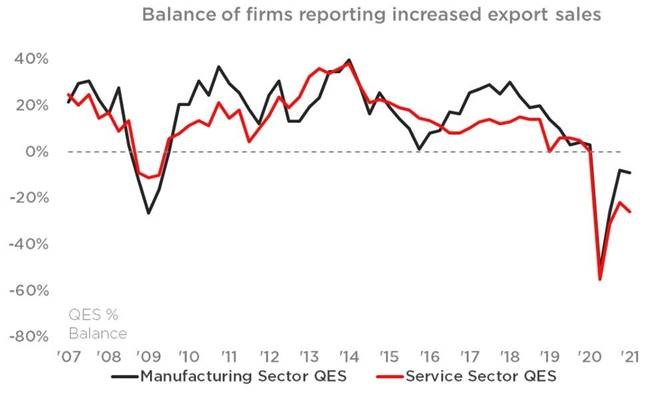 Further sectoral breakdown reveals that hotels and catering firms and retail and wholesale firms were the worst hit, with 81% and 60% of respondents respectively reporting a decrease in export sales this quarter. Just 4% of hotels and catering firms reported an increase in export sales, with only 14% doing so in retail and wholesale. Among production, manufacturing, and construction firms, 36% reported decreased export sales, with 27% reporting an increase and 37% reporting no change.
For advance orders from overseas customers, the picture remains broadly the same. 81% hotels and catering firms reporting decreased advance exports sales, alongside 59% of retail and wholesale businesses. Worryingly, this suggests that exporters are not seeing signs of the situation improving in the short term.
Respondents cited Brexit and the impact of Covid-19 as the biggest causes of problems in trade. Firms told of issues such as shipping delays, increased cost of transporting goods and extensive paperwork requirements, with many seeing the problems they were facing as structural in nature rather than short term issues likely to alleviate as companies adjusted to the changes in the UK-EU trading relationship.
Alfred Van Pelt from Something Different, a clothing and accessories wholesaler based in Somerset said: 
"Since 2021 our sales to the EU have collapsed dramatically. European customers, whether individuals or businesses, are reluctant to buy from the UK. Not only did this cause an immediate drop in turnover and the need for redundancies, but also killed a massive growth opportunity of our business. Our foreign investor had plans for the UK entity to become a European distribution hub. This is now no longer on the cards as the only distribution that can be done from within the UK cost effectively is to UK postcode addresses."
Responding to the findings, Co-Executive Director of the British Chamber of Commerce, Hannah Essex, said:
"Given that export sales are at some of the lowest levels ever recorded in the history of our data, the fact that situation is continuing to deteriorate is concerning. These new figures show that UK exporters are currently facing a range of issues that go beyond just those that have been created by the pandemic.

"Whilst our Quarterly Economic Survey earlier this month demonstrated that domestic sales had continued to recover towards pre-pandemic levels, these findings show exports not only failing to recover but falling back. Many businesses are telling us that their ability to continue trading is at risk due to issues arising from the UK-EU TCA. In response, Government has taken a step in the right direction with the establishment of the £20 million SME Brexit Support Fund, although we believe the scale of ambition needs to be much greater.

"The message is loud and clear that the difficulties exporters are facing are not just 'teething problems'. They are structural issues that, if they continue to go unaddressed, could lead to long-term, potentially irreversible weakness in the UK export sector. We are calling on both the UK and EU to get back around the table and produce solutions that reduce trade barriers and give exporters a fighting chance.

"Exporters want desperately to play their part in the UK economic recovery from Covid-19, but they are currently being hampered by issues outside of their control. Government must take further steps to bolster the UK export sector and unleash its potential to help power economic growth in the aftermath of the current crisis."