Worcester has welcomed a parade of painted elephants as part of St Richard's Big Parade. The art trail sees 66 elephants, big and small line the streets of Worcester City Centre for 8 weeks bringing the community together for one unforgettable event. Each sculpture is sponsored by a business and individually designed by an artist.
The Big Parade was officially opened Tuesday morning by the Mayor of Worcester with the trail now open to visitors for free. Adventurers will be able to pick up a map from outlets across the city or can print one off here worcestersbigparade.co.uk/art-trail. There is also an app available to download to view the locations of all of the sculptures and activities for all to participate in.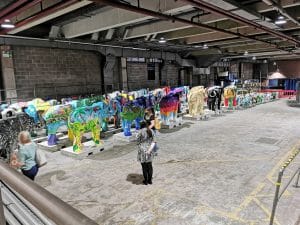 The Herefordshire & Worcestershire Chamber of Commerce are proud to sponsor the "Leave the Herd Behind" sculpture, located at Crowngate Shopping Centre. Created by Kathleen Smith, Leave the Herd Behind depicts some of the landscape along the River Severn and some of the insects that live there. The design encourages us to step away from the busier parts of the city to get closer to nature and appreciate the peace and quiet.
Sharon Smith, Chief Executive of the Chamber of Commerce, said: "It is fantastic to see all of the beautiful sculptures placed across the city today. For the next 8 weeks they will be available for all to see and we are extremely happy to support St Richard's in yet another fantastic initiative which will bring joy and colour to the streets of Worcester."
The Elephant Sculptures were revealed to the public this morning but an exclusive first look event gave sponsors the opportunity to see the Herd in all of its glory and a preview of the fantastic sculptures on show throughout the city for the next 8 weeks.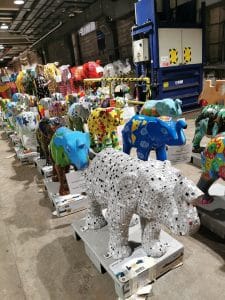 For more information on the Worcester Big Parade 2021 event including art trail maps and activities to take part in please visit www.worcestersbigparade.co.uk.